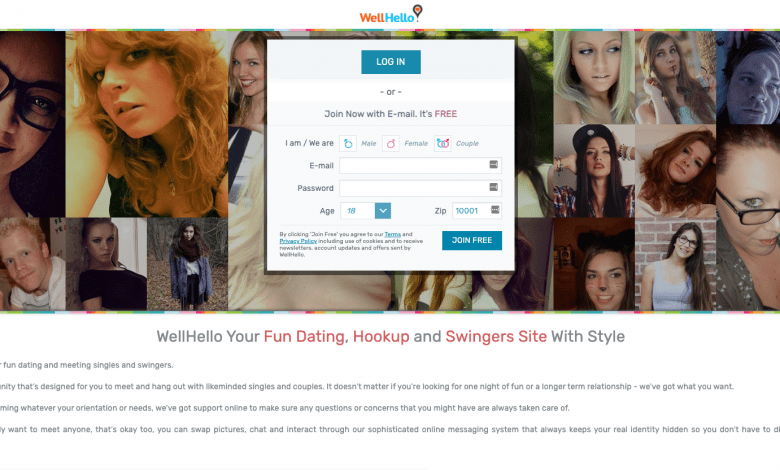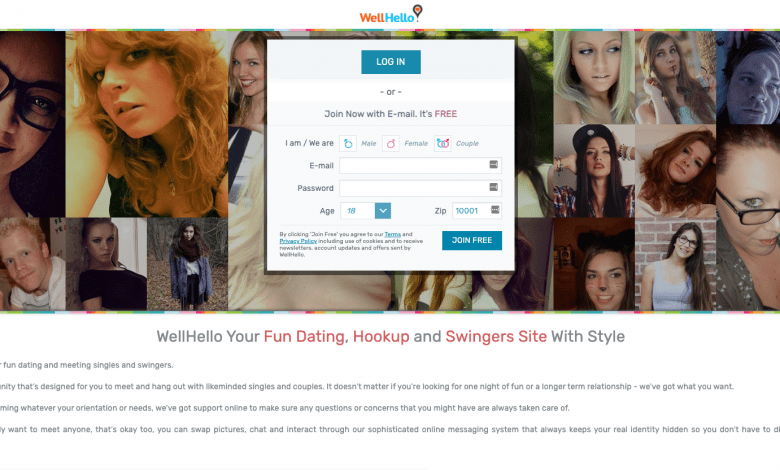 If you're getting tired of the usual apps lurking in the market for adult casual fun, then say "hello" to WellHello! You're probably one of the 30% of Americans using hookup apps having this problem right now. We get you, bud. Your friends from Men's Inquirer are on the search for the latest hookup app that may come in handy for you in those cold, lonely nights in bed.
And now, upon finishing our detailed breakdown of Adult Friend Finder and Fuckbook, we're featuring our 2022 Review Rating of WellHello for you gents to better know if this is the adult app to answer your prayers. Are you interested to learn more? Read below!
WellHello Ratings
Dating Site Legitimacy
9.8
---
Is Well Hello legit? Or is it a Scam?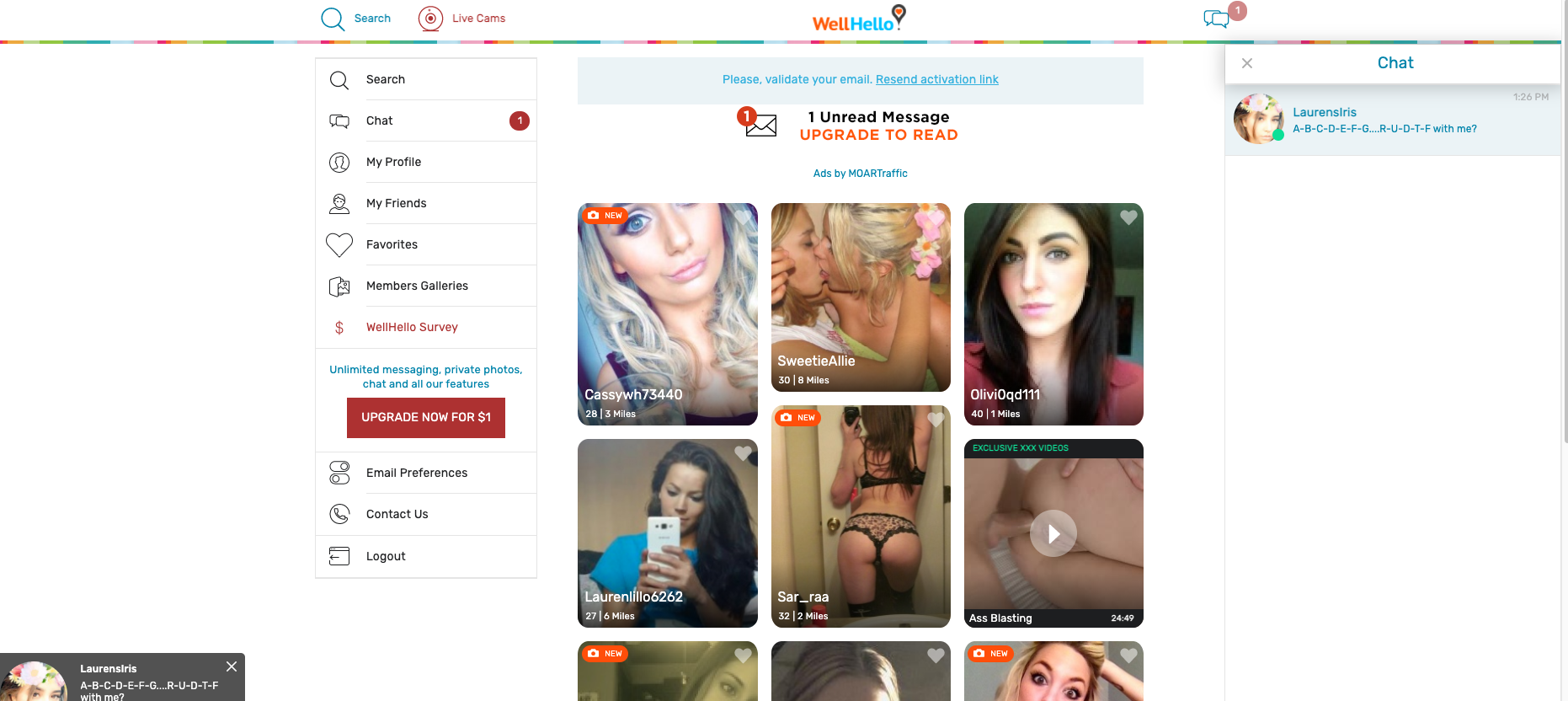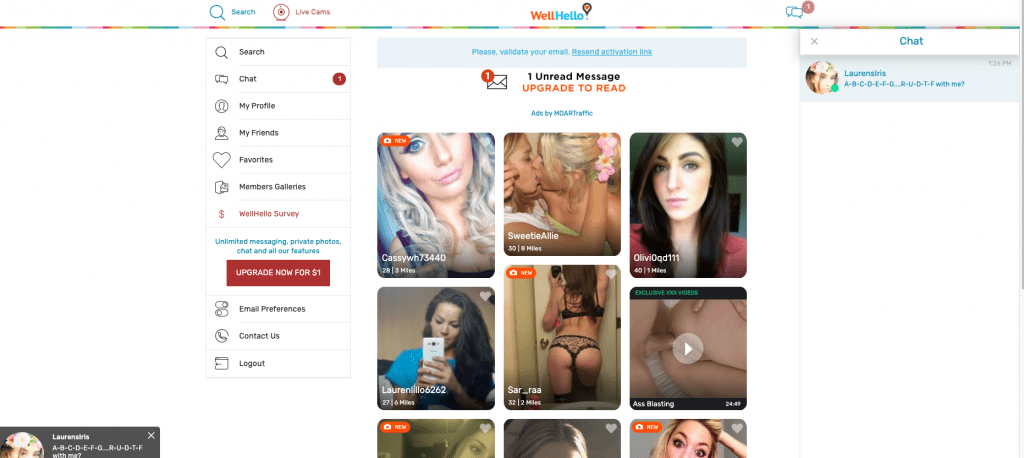 With over 1.8 million profiles and a reply rate of 96% within the app, the WellHello site is as real as it gets. It's primarily an American dating site with most users coming from the United States but has expanded globally—now with members from the United Kingdom, Israel, Kenya, Indonesia, Germany, Ghana, Russia, Egypt, and France.
Upon using the app, I didn't sense anything unusual and I felt secure knowing that the app was using a two-phase confirmation to verify the user's identity. While there may still be a few bots lurking around, I can confidently say that it's not enough to ruin your experience when using the app.
Unlike other dating apps that focus on photos rather than details, WellHello provides the right balance of images and textual information. Trust us, you won't get bored reading a profile that easily because the profile is structured well where it doesn't seem and feel like it's running all over the place.
Users can share their sexual preference, status, race, and physical attributes—if you're into that. There's also a headline text area where you can quickly read to get an impression of the person you're interested in.
---
My Well Hello Experience and Hookup Tale
Making contact in Well Hello is generally a breezy affair. There's nothing much into it, and I had no problems signing up for the first time. One thing I'll note, however, is that WellHello has somewhat limited features. Unlike other dating apps, unlimited messaging is exclusive to premium members, so if you want to woo a prospect hookup or date, you better have nice photos to pique their interest and you should be strategic in letting them know that you want to get in touch.
When it comes to pricing, I'd say WellHello falls in the average range—not too cheap, not too expensive. For a monthly fee of USD7.45, I think it's a fair price. It's worth mentioning that the premium feature includes access to users' private photos, sending flirts, viewing videos, and video chats. It also lets you see who viewed your profile—and that to me is more than enough.
I think I should include this in my WellHello review because I won't be doing justice if I don't share with you everything I've experienced while in this app. I was able to sext with a couple of hotties for a time, all from different parts of the country and it was mostly fun. Note that it wasn't all sex with these people.
You'll get to learn a lot about them, and the topics we covered weren't varying in scope (I know, I was surprised too!) We can sometimes talk about little things, but of course, after we get bored or when a considerable lull was happening for a time, we shift gears and resume flirting and heating things with our intense sexting sessions. If you're into different kinds of kinks or fetishes, you're sure to find a likely match in the app.
What is WellHello?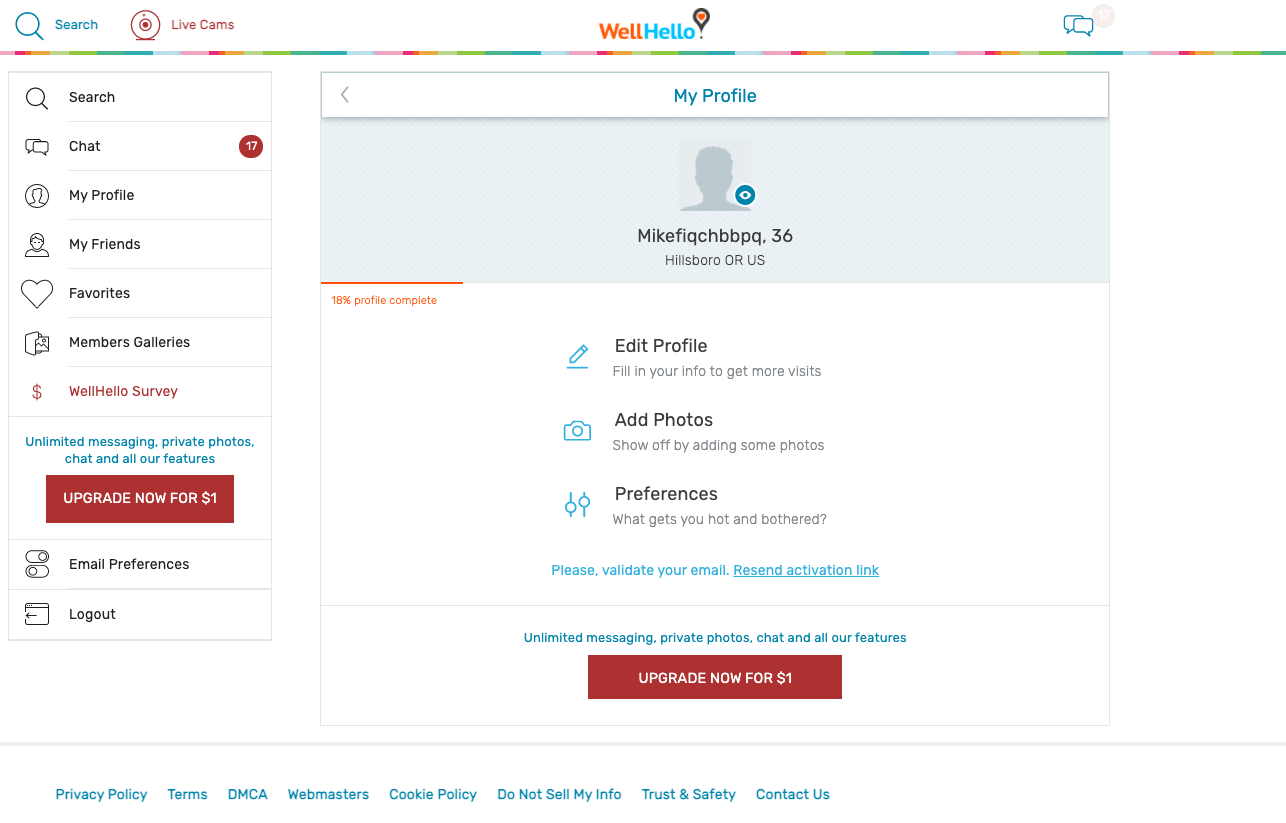 WellHello is an online adult community that first gained popularity in 2017. Upon opening the platform to the public, it branded itself as "a fun and friendly site for fun dating and meeting singles and swingers." Now, talk about being upfront about it, right? It aimed to be a new dating platform for people who are after exciting sexual experiences with people all around the globe.
While Well Hello is a global dating site, it has a large majority of Americans who frequent the app. Signing up is quick easy and FREE. And just like most adult dating apps in the market, it lets people chat and create connections with people who share the same passion as you do for all things kinky and sensual.
This won't be a complete WellHello review if we didn't include the pricing of the subscriptions. As with any sex dating website, price plays an important role to make or break someone's decision into using an application for sex dating.
While the app provides a unique feature which is a free 24-hour trial period for you to take the app for a spin, it offers three subscription packages namely the Quick Hookup for $1 providing unlimited access for 24 hours, the Yearly Subscription at USD7.45 per month or USD89.40 per year, or the monthly option where you can have exclusive all-access to the app for 30 days for just USD24.9
What Kind of Members are on Well Hello?
As earlier mentioned, there are over a million active users in WellHello, with 70% of the population mostly men and the remaining 30% being women. I would say the app has a younger vibe considering the number of young profiles I have seen while browsing.
You can filter your search by age or location, so if you're more particular about what you're looking for in a partner (be it casual or serious), you'll have more control over it. But, seriously, I don't see this app for serious relationships.
If you're tired of just wandering through endless Snapchat sluts on your phone, WellHello is a great app to explore all your kinks and fetishes and just make those fantasies into reality.
You don't need to worry if you have a particular taste when it comes to sex partners. As earlier mentioned, you can fully explore your sexual desires as you'll meet people of various backgrounds. Should you want to meet furries or people who like BDSM, there's a community surely waiting for you to welcome them.
Leather and rubber lovers, as well as people who are into role-playing, will be delighted to find out that plenty of members is game into exploring these facets of sex. If you're a sugar daddy who wants to find their very own sugar baby, you'll be sure to find them here.
Conversely, if you're a young guy who wants to be with a MILF, consider it done. There are plenty of hot cougars in the prowl to catch their cub. LGBTQIA people too are free to find sex partners here, and whichever part of the rainbow you might, you're sure to find the perfect match for you.
Of course, while we say EVERYTHING is possible here, it's important to note that all things in the application have their limitations. What do we mean when we say this? You have to be responsible with your actions when interacting with anyone for your sexual gratification.
Everything must be done with mutual consent. Sexual chemistry isn't the only factor in play here. You have to make sure that your potential partner is comfortable with whatever you want to do with them and vice versa.
---
Are There Horny Dating Website Members in Well Hello?
The WellHello site is the perfect place to work on your sex life by meeting other members who are as passionate as you are about great sex. Thanks to its high site visit rate, you'll never have a shortage of free users for one night of serious fucking.
Compared to other dating websites, the WellHello website keeps things simple so as not to overwhelm most members when using the application. You can easily chat with real users and send private images several times.
However, if you upgrade your free membership into a premium account, you can unlock a particular service including all the benefits exclusive to premium membership. Some of these features include unlimited messages, accessing members' profile photos, ability to create private galleries.
Since the standard free version allows you to view only basic information of members' profiles, and grant limited access to a few WellHello free features, we recommend getting the premium WellHello account to make the most of your experience using this.
One thing to note is to avoid fake profiles which a few freaks have created to lure and scam victims in the process. Other than that, we can say that it's a great site that will fit most users.
WellHello Features
Like any adult dating site, each platform has notable features that make them stand out from above the rest, here are some of the things you'd expect when using Well Hello:
· Free sign up.
· Private gallery option for members who upload photos in their profile
· Unlimited chat option (premium exclusive)
· Video chat option (premium exclusive)
· "Add to favorites" option for your preferred user profiles
· Over 1.7 million users worldwide
· Optimized for hookups and casual play
· Private gallery sharing and access
Pros and Cons of WellHello Dating Site
As with many of the sex dating platforms that I've tinkered with over the past years, WellHello has unique features that let it shine best, and some flaws that might ruin the experience for some users. Here are some of them.
Let's start with the pros:
· Quick and free signup
· Mobile and desktop versions are readily available
· The trial period is immediately on offer upon registration.
· Members are highly responsive
· You can view other members' profile photos on the fly
Cons:
· Messaging features such as text and video chats are premium-exclusive
· There might be a few bots lurking from time to time appearing as other users
· May have a lot of pop-up ads
· Not for people looking for serious or long-term relationships
· The WellHello app may present a WellHello survey from time to time asking about your sex life, which may be bothersome for other members who are not fond of pop-up surveys on the application.
Why Is Well Hello One of the Best Adult Dating Site in the World?
You might ask, "Is WellHello even that great?" or "How does WellHello work?" We're here to give you some compelling reasons why it's one of the best dating sites to date.
The WellHello online dating site is just great when it comes to providing exciting sexual adventures to everyone. It also doesn't discriminate or exclude other users, regardless of their age, background, or sexual orientation. You won't be surprised finding girls date with older guy members, or other WellHello members strutting their stuff on their web page.
It's one of the online dating sites that supports sex positivity, so no one would feel alienated. You can also meet some WellHello real and full profiles here compared to other hookup sites with fake accounts.
Apart from that, you can expect WellHello legit and high-quality services from the app team. Should you have any issues within the online dating site, send a message to the site team by clicking the Create New Ticket link found in your profile.
Unlike other online dating sites, WellHello prioritizes efficiency too. The registration process is simple with just your e-mail as its main requirement, making Internet dating a breezy affair. It also doesn't demand you to ask for your personal details which aren't relevant to its dating services, so you know it's not suspicious, unlike some applications.
This particular app also has a mobile version which makes accessing any WellHello profile easy-peasy. Before googling "How to delete WellHello account," let me just remind you that it can be done with a fast click of a button and won't take you a few weeks just to confirm it compared to a different Internet site.
---
Safety and Security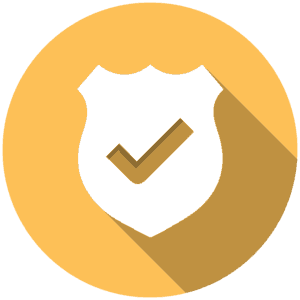 Another question that may come to mind when using the app is this: "Is WellHello safe and secure to use? As cybersecurity becomes a major concern for many users nowadays, WellHello has taken extra precautions in protecting their users' identity as well as their trust and safety. Before registering, first-time users should review WellHello's privacy policy and terms & conditions to fully understand what they're signing up for.
We can assure you that Well Hello is serious about implementing safety as they employ data encryption features within the app. You can learn more about how their security features work by clicking their contact page to talk to any of WellHello's customer support team.
---
My Suggestion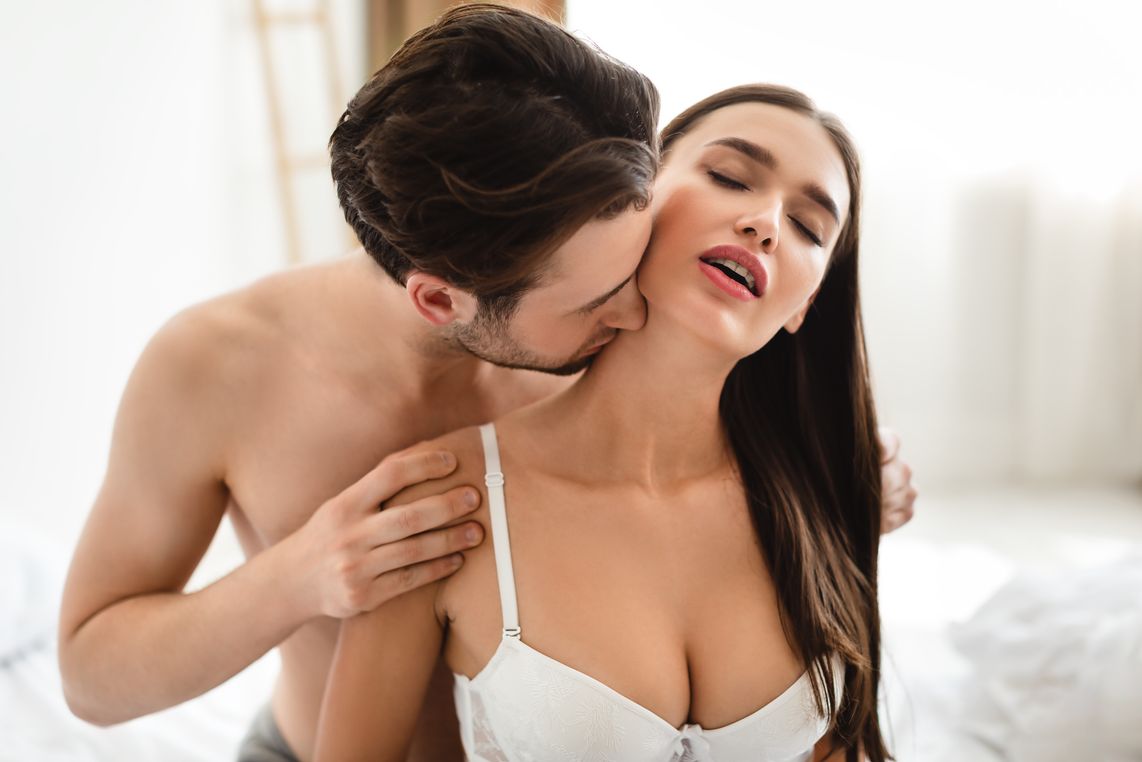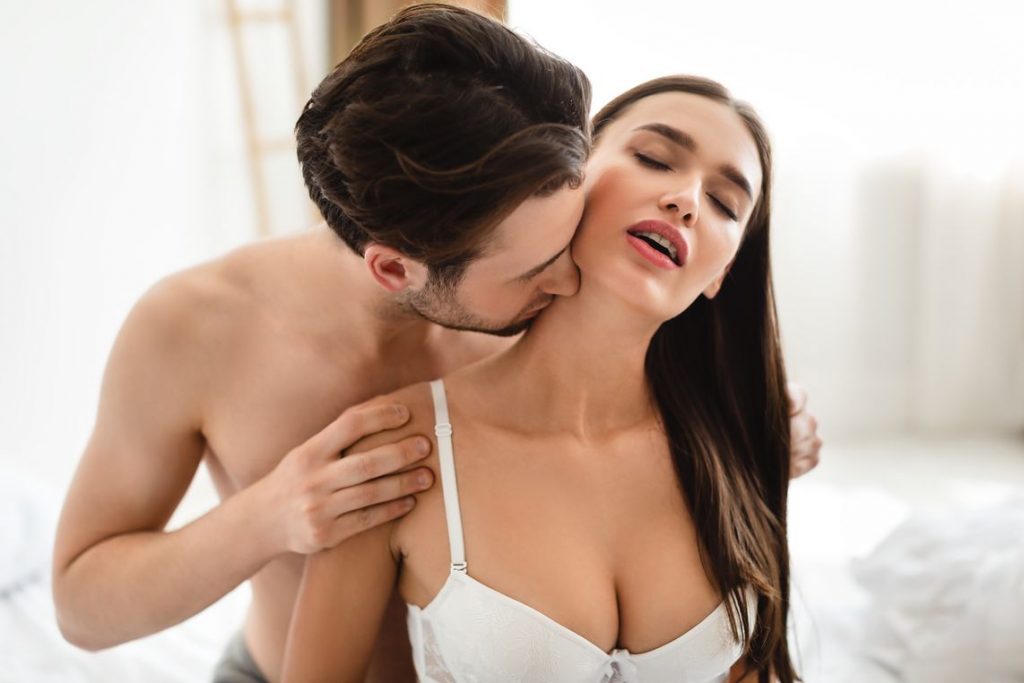 So that's it for our 2024 WellHello review! If it's a reliable adult dating site you're after, we have a clear winner in WellHello! Say hello to exciting hookups and casual adventures and goodbye to cold, lonely nights!
Signing up is easy and can be done in less than 2 minutes, so there's more time for you to look out for your perfect partner. Wanna know more about the hottest trends in online hookups? Check out our latest blog entries to get the lowdown on these newest developments in porn and other WellHello alternatives too!
---