It doesn't matter if you are searching for a casual hookup or one-night stand; online dating can assist you in looking for the ideal match. The best online dating site has a superior dating pool and a compatibility matching system, making it simpler to look for somebody who ticks all the boxes.
For today's blog, Men's Inquirer is going to review Alt.com, one of the leading BDSM dating sites in the world.
If you are searching for an online dating site that tackles bondage, fetish sex, BDSM, and practice erotic, Alt.com is the best choice for you. This is for sexually adventurous people who want to engage with other members. Some people also subscribe to the Alt.com site for the sake of curiosity.
---
Alt.com, What Is It?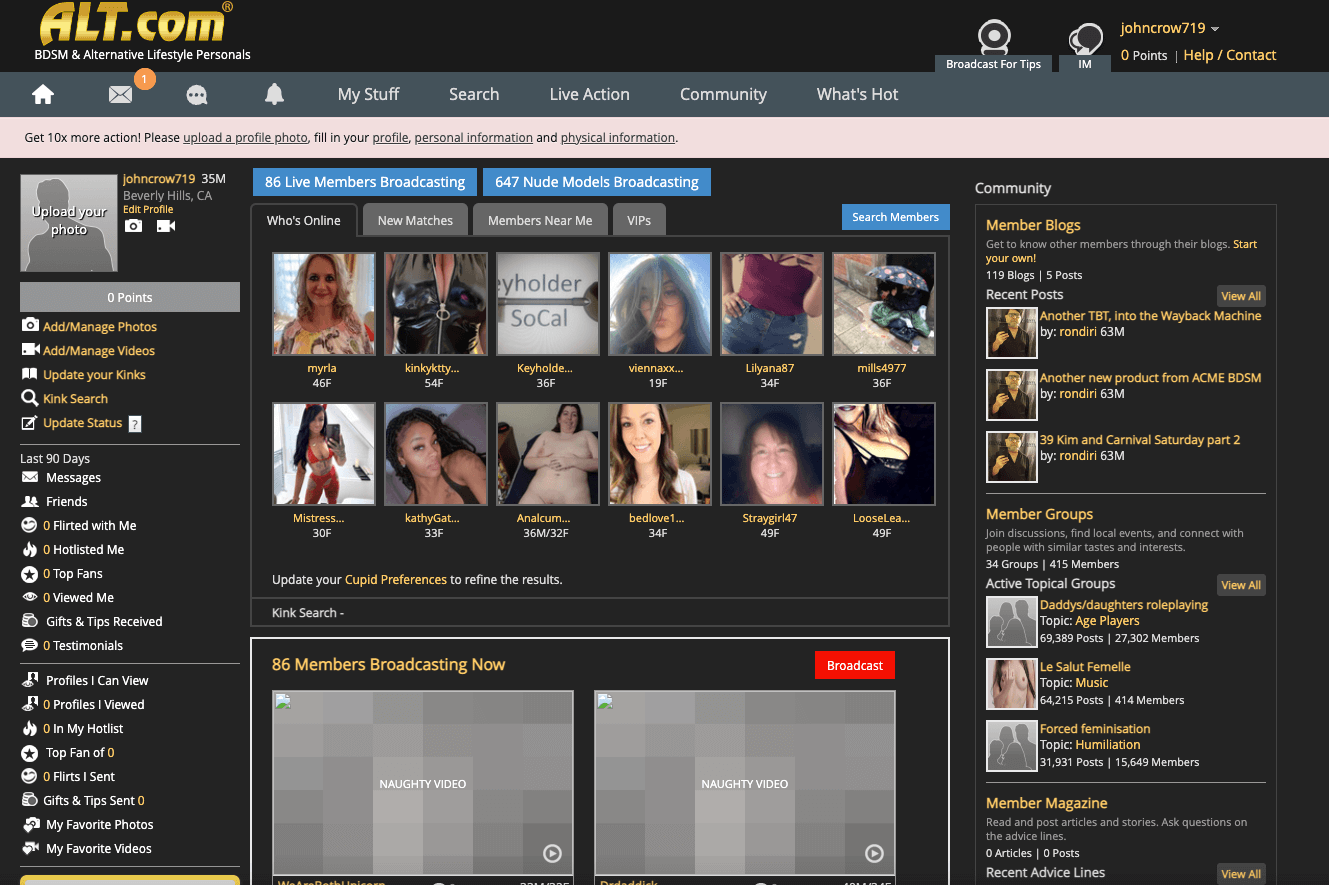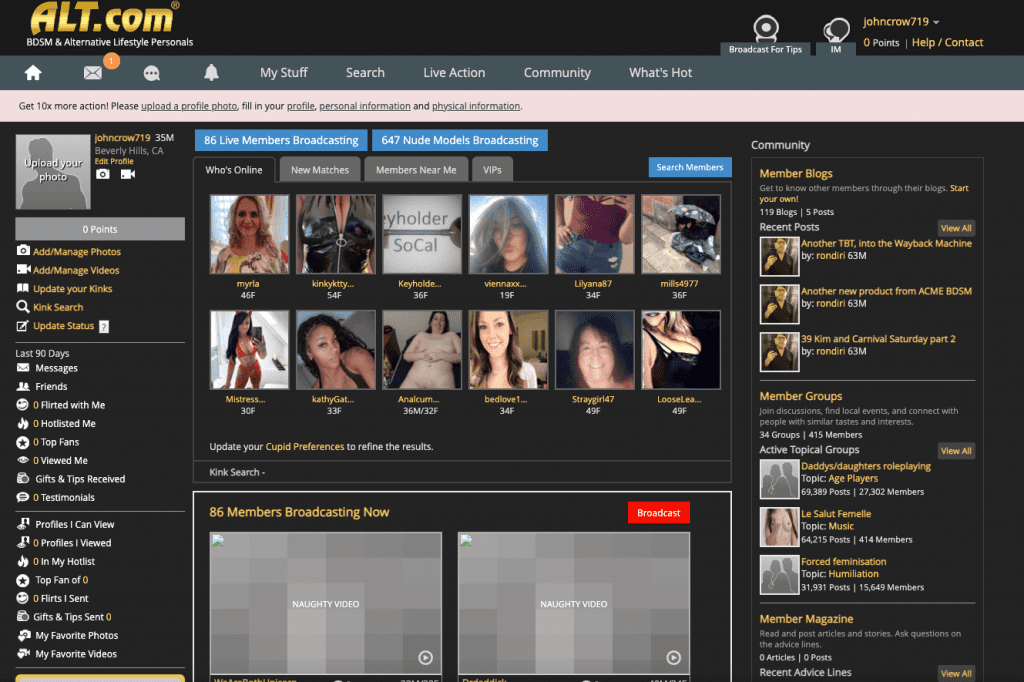 Like UberHorny, Alt.com is one of the best fuckbook for those who are fascinated by alternative relationships and lifestyles. This takes account of BDSM, that is, erotic role-playing, which involves dominance, bondage, discipline, sadomasochism, submission, and other associated consensual adult activities. This online dating site has over 1.9 million active members in the US alone.
This online dating site caters to swingers, couples, and single who have all kinds of fetishes. You'll find a lot of amateurs, mistresses, and dominatrixes if you search the profiles on this site, but in order to do this, first, you have to make an account. Registration is free and can be done in just a few minutes.
---
How To Create Your Free Account On Alt.com Online Dating?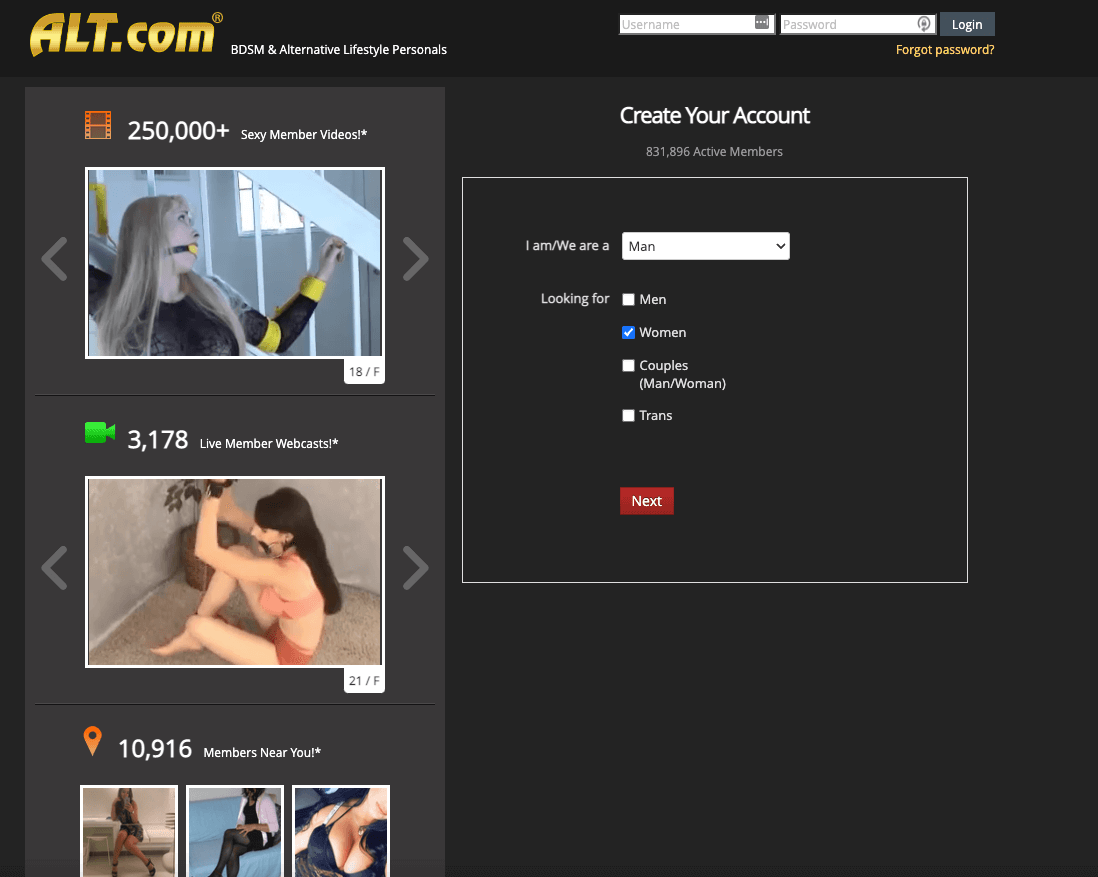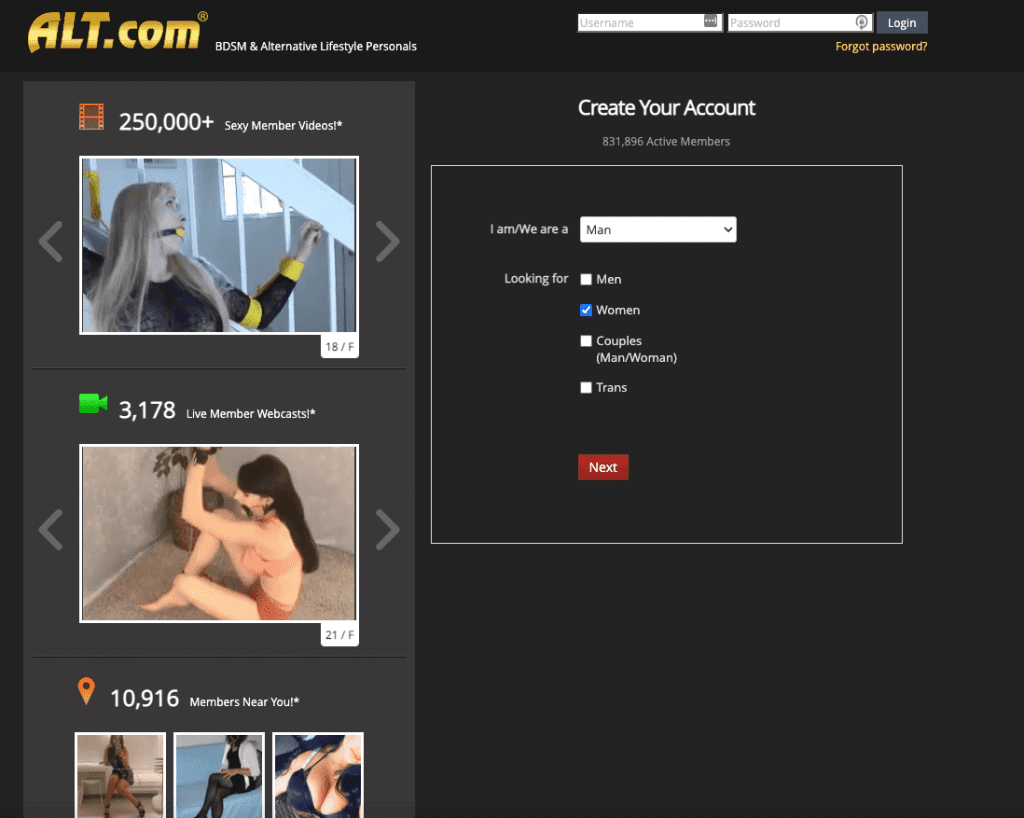 You will use the form on the site's homepage to create a free account. It has a couple of steps to complete.
First, you will be asked to indicate a kind of member (a woman, a man, a couple, or a minority).
Next, you have to give your location and birth date
After that, you must enter your email address, create your username and pick a password. There's an additional detail that was required to finish your profile and look for your matches.
You can't just pick groups of minorities or straight orientation but also show that you're bi-curious, meaning you have the eagerness of trying to have fun with both sexes.
The last part of creating an account is to put information on your profile about yourself, making it more attractive to users.
---
Are There Active Members on Alt.com?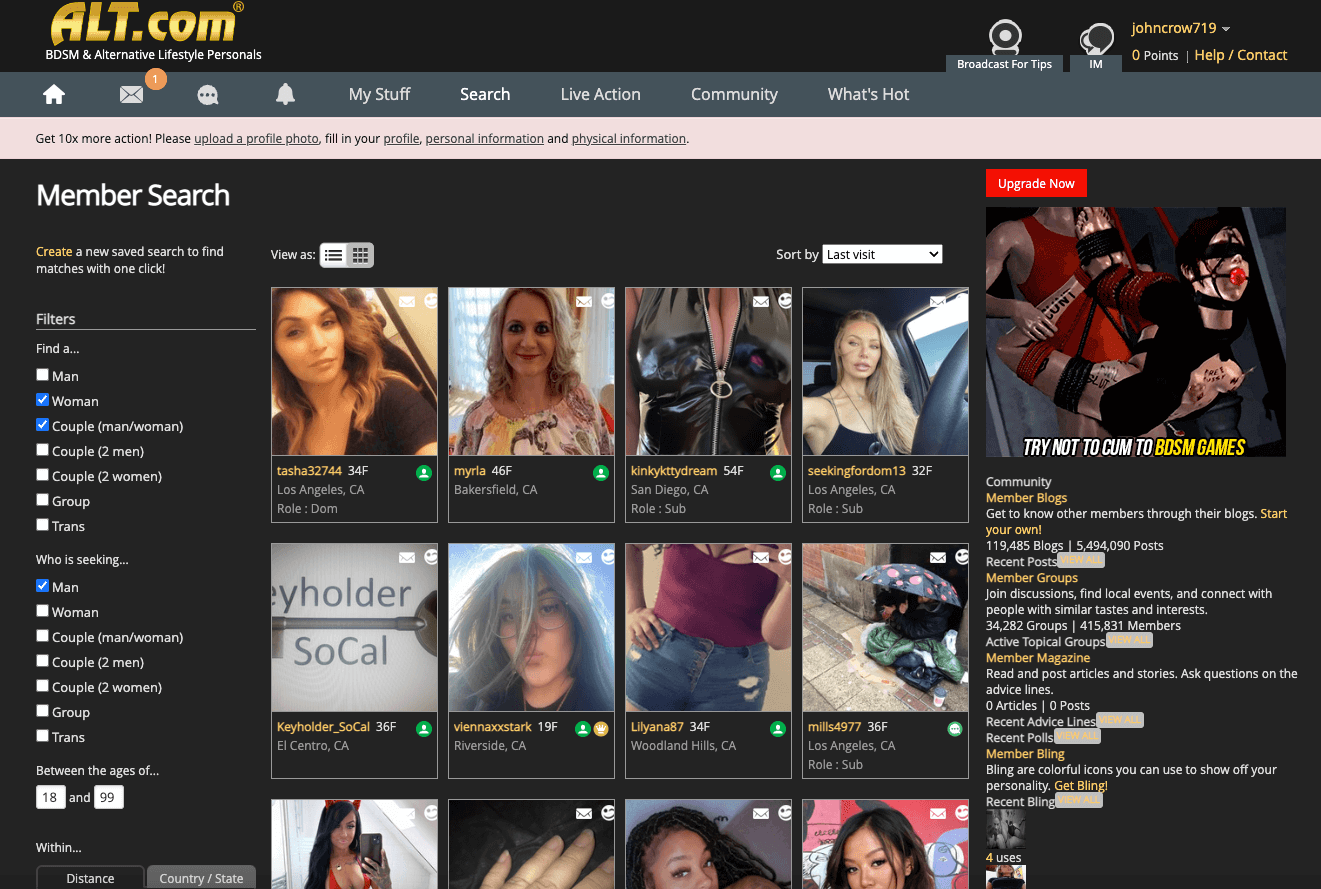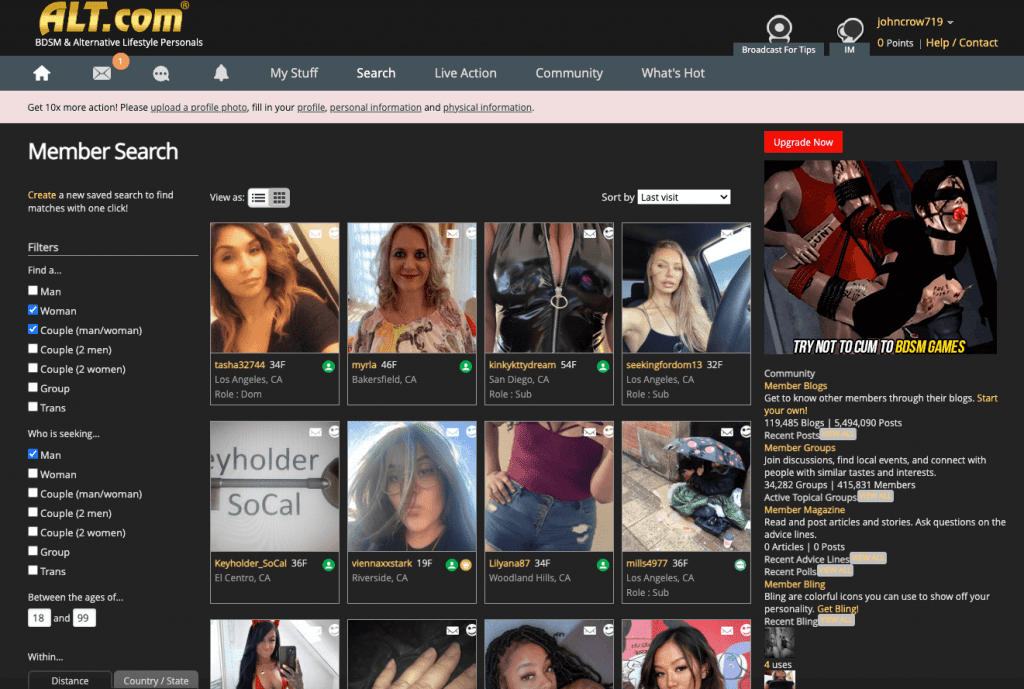 This online dating site claims to have over 2 million active members or users. Alt.com has a lot of engagement; however, there are also a lot of fake profiles. It's said that active members are just half a million as opposed to the total number of user-based.
The age composition of the members oscillates typically from approximately 25 to 34 years. Male members dominate this online dating site with a ratio of 4:1. The ratio is inferior when you compare it against their peers. Alt.com takes special care to ensure that active members are of legal age. This site is open to all types of relationships like Lesbian hookup apps, straight, gay, couple, and group. Most of these users also share their naked snapchat pics so watch out for those free pics you can get.
Just a friendly piece of advice, do not forget to read their terms of use and privacy policy/cookies page to know more about the security of their website.
Pros and Cons of Compared to Other Dating Sites
This online dating site experiences a lot of traffic every day. The number of members is extremely high throughout the day. Another amazing perk of this site is that it provides people the service of meeting other members who are also into alternate sex.
In this way, they are able to bring together an alternate sex community. Another perk is that this online site is open to all forms of relationships.
On the other hand, despite the many perks, it also comes with some drawbacks, such as the layout and design are not that good. The user interface is highly complicated. This online dating site also has a lot of scammers and fake profiles that bring down the credibility of Alt.com.
Compared to other dating sites, Alt.com has lots of active users. Joining is also fast and easy, and what is more, the chance of finding a hookup is possible.
---
Can You Meet and Fuck in Alt.com?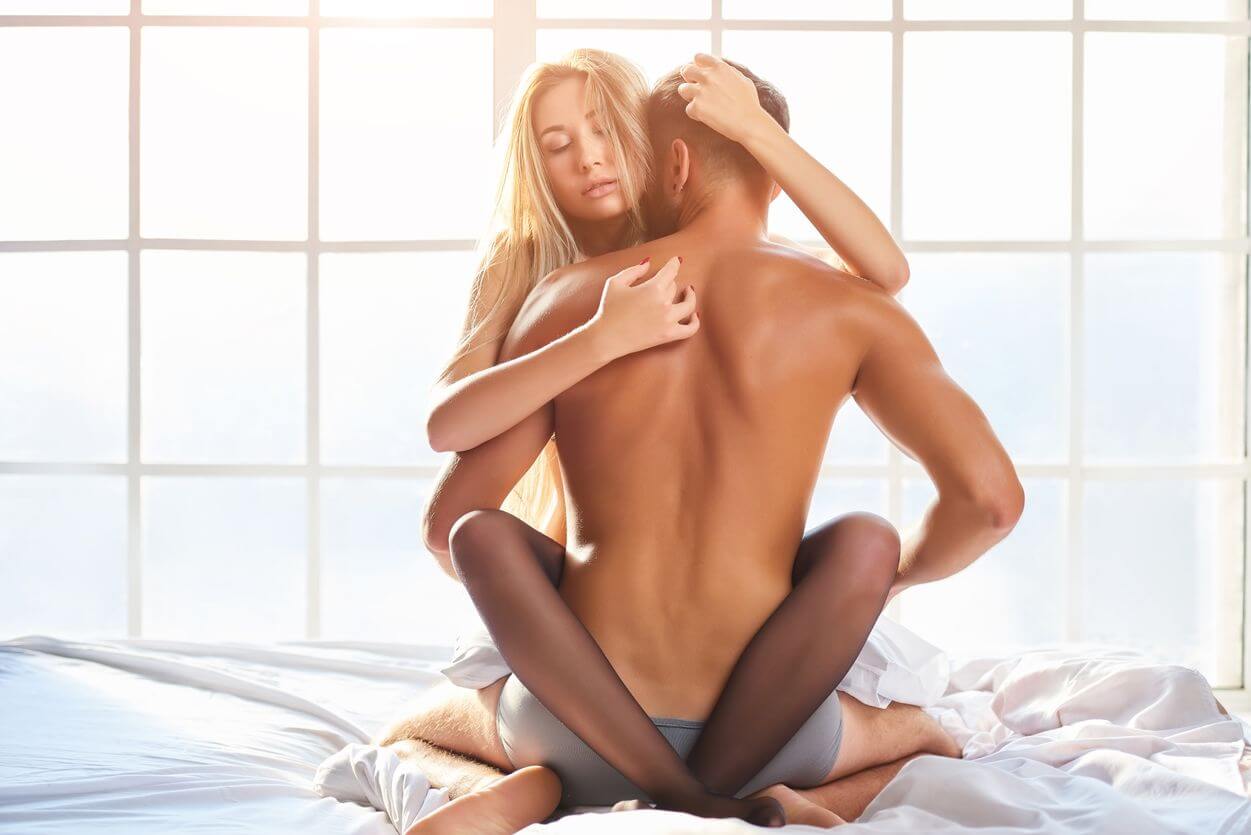 Yes. You can meet and fuck on this online dating site, specially if you are looking for some MILF's from Snaphat. Remember that Alt.com is an adult online dating where sexually adventurous people can practice BDSM, erotic, bondage, and fetish sex. It doesn't matter if you are only curious or want to meet and fuck someone; this is the best site you have to join.
On the other hand, you need to follow certain things or tips to make your meet and fuck venture a huge success. Ensure you have a fantastic profile and know how to please someone. Keep in mind that the whole thing begins in a good profile.
---
How to Start Chatting On This Dating Site?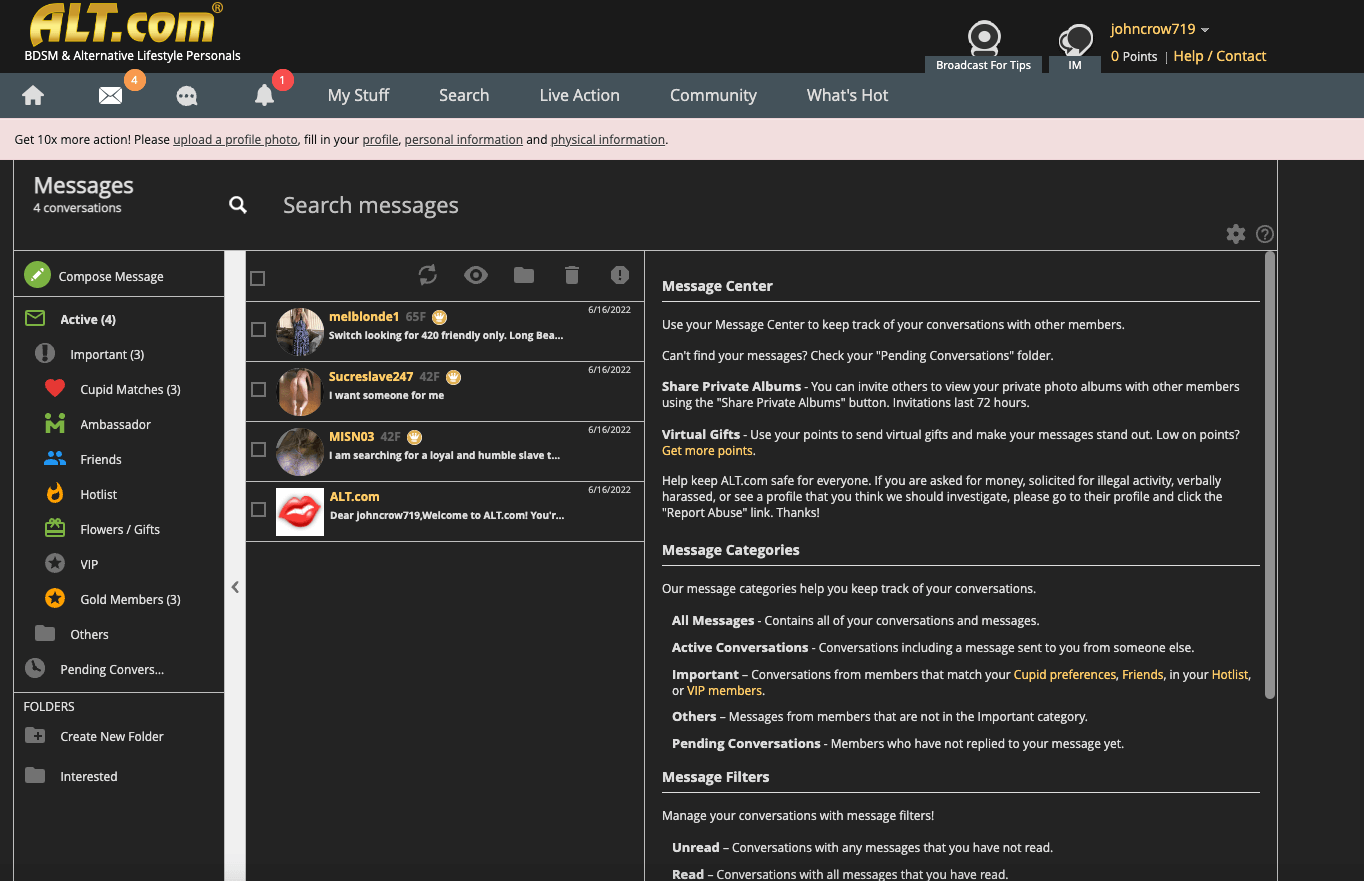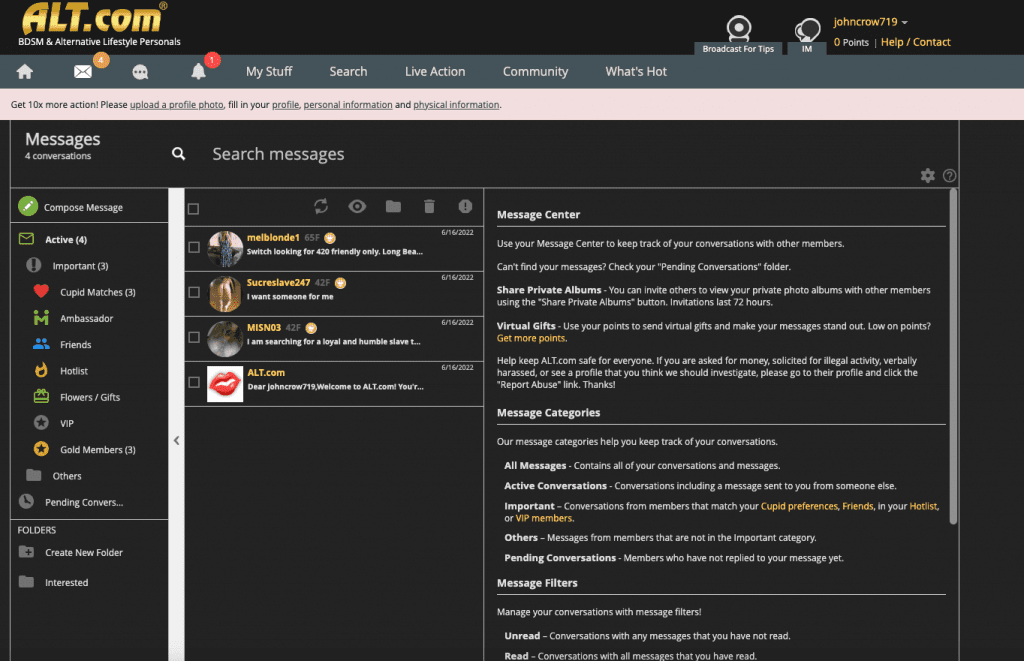 There are ways to begin chatting on Alt.com. You can send a message to a friend or somebody you know or can partake in a group chat. If you know the person you are messaging, start by saying "hi" or "hello" or by asking, "how are you." When joining a group chat, begin by introducing yourself. Do not ask for their leaked snapchat right away, there will be a perfect moment for this as you don't want to become awkward on your first chat.
To start a conversation, begin by tapping the New Chat button at the screen's lower part. Click the name of the contact you want to chat with. If you receive a message from other members, you can reply by tapping the reply button.
Alt.com compared to other dating apps.
Alt.com was made to help you meet other members for casual hookups. This online site is more serious than other online platforms. This adult site is perfect for couples, singles, and groups into role-playing and other sexual fetishes. They keep in mind the safety of the users, so submission of proof of identity is needed.
Compared to SnapSext, members can also watch live adult cam models for free. Premium membership is available in two forms and three duration packages. This can be used for free as well. However, despite the verification process, scammers and fake profiles still interact on this online dating site.
---
Tips On How To Attract Someone from Alt.com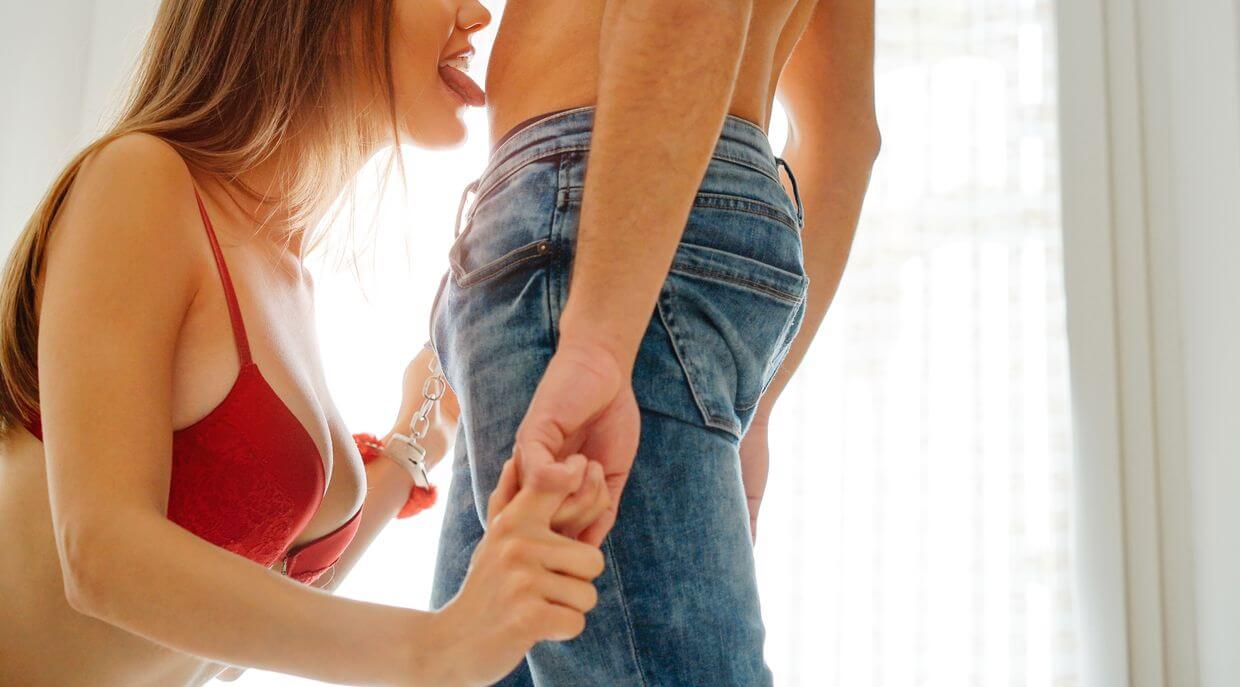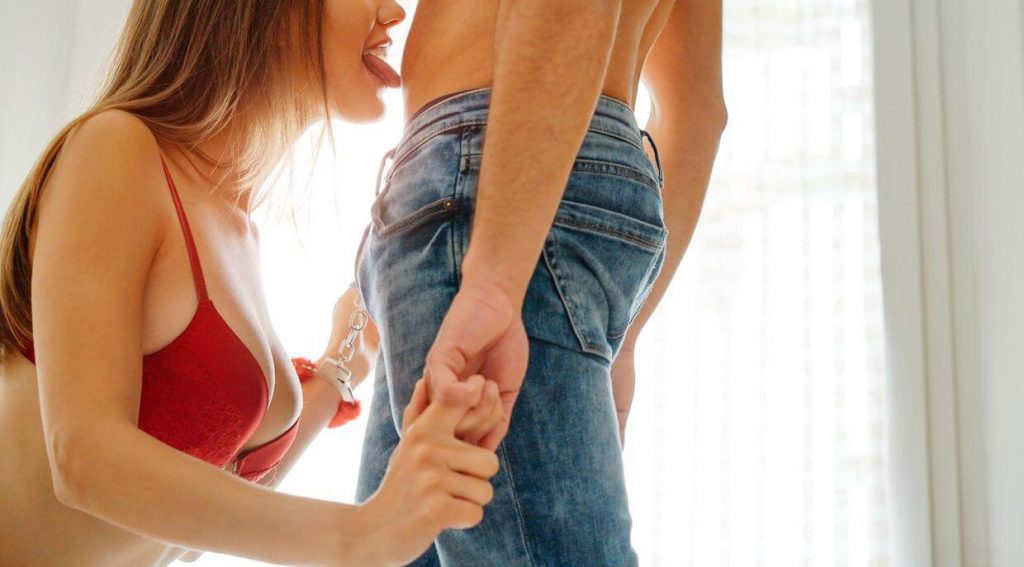 You can use some tips to attract someone from this online dating site. This takes account of the following:
Use a simple bio; a couple of words are OK, including words that show your real personality.
Show personality via images and pictures, you can do this through sexy snapchats.(You already know what I mean *wink)
Use superior and high-quality images
Keep away from many group photos
Highlight the best features
Gee feedback from other users
---
Final Thoughts
Alt.com is indeed the best adult online dating site, mainly made for BDSM lovers and for people who would want to try out the usual erotic practices. If you like to somewhere, you can find like-minded people and if you like to strongly and deeply enjoy and please your sexual fetishes, join Alt.com now.
Check out also our review for Adult Friend Finder and FriendFinder-X.
---